Snoop Dogg Wiz Khalifa Concert
Snoop Dogg Wiz Khalifa Concert Injury Claims
Joseph Monaco, PA & NJ Trial Lawyer
Call or text 609-277-3166 in New Jersey or 215-546-3166, in Pennsylvania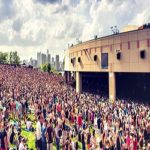 Concert goers got more than they bargained for while attending a Snoop Dogg and Wiz Khalifa concert at the BB & T Pavilion on August 5, 2016 in Camden, New Jersey. Halfway through the show a railing collapsed injuring over 40 people when Snoop and Wiz incited the crowd. The lawn section crowd stampeded towards the stage causing the railing to collapse.
A tragedy like this should never occur. It was caused by poor safety planning and/or the railing being defective including being improperly maintained. At least one person was critical injured. This is not the first time a tragedy has happened at a concert. Better precautions should have been implemented to avoid a catastrophe like this from happening. Concert goers pay high ticket prices for an enjoyable show, not to be crushed.
If you or a family member were injured at this concert, you need to contact me, Joseph Monaco, immediately by calling or texting 609-277-3166 in New Jersey or 215-546-3166, in Pennsylvania to make sure your and your family's rights are protected.
Published 08/06/2016