Trump Bravado
Trump University Fraud Settlement
Trumps Trumps Never Settle Bravado
Joseph Monaco, PA & NJ Trial Lawyer
Call or text 609-277-3166 in New Jersey or 215-546-3166, in Pennsylvania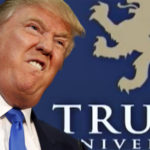 As everyone is probably aware a major issue in the Presidential Campaign was Donald Trump being sued for fraud. The case involved allegations that Trump University was a scam. Mr. Trump was full of bravado before he admitted defeat and agreed to the Trump University settlement of $25 million. Even though this case involved issues not directly related to personal injury or insurance claims, which I handle routinely, it does offer perspective on the bravado that litigants can engage in when defending cases.
Mr. Trump routinely boasted that he never settles cases. To do so, encourages more cases against him. On the surface this may seem like a very rational position to take. It is one I hear frequently from lawyers, corporations and insurance companies defending personal injury and insurance claims. In reality though, the decision to settle a case is determined by whether the other choice, going to trial without settling, is a better option. The Trump University settlement was for $25 million. He did this because the other option likely would have resulted in a verdict in excess of that amount. Mr. Trump stated that he settled the case to move forward and focus on the presidency. However, I would not accept this statement without a large dose of skepticism. Mr. Trump settled the case because he knew the alternative would have been much worse.
The same is true in personal injury and insurance coverage claims. These cases settle because the other option is a poor choice. If the insurance company or defense lawyer believes a trial will result in a defense or low verdict, they will not make an offer. If they believe a verdict above a reasonable settlement offer is likely, then they will make sure an offer of settlement to get the case resolved is made.
The lead up to this decision is all bravado. And in my experience, when a defense lawyer tells you at the very beginning of a case that it will never settle, it usually does. When a defense lawyer knows he or she has a case they can win at trial, they usually keep their opinion to themselves and simply move forward with defending the case.
If you or a family member have been injured or killed in an accident or during a medical procedure in New Jersey or Pennsylvania, and need an experienced lawyer that has heard and seen it all, you need to contact me, Joseph Monaco, immediately by phone or text at 609-277-3166 in New Jersey or 215-546-3166, in Pennsylvania. Free consultation offering my over 25 years of experience as Trial lawyer.
Published 11/20/2016