Who Is Liable For Slips And Falls On Ice?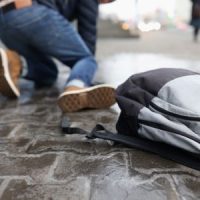 Were you recently injured in a slip and fall on an icy walkway on someone else's premises? Whether you sustained injuries at the home of a friend or family member, or you slipped and fell on ice while you were out shopping or eating dinner, you may be able to file a premises liability lawsuit. Our New Jersey and Pennsylvania slip and fall attorneys can explain in more detail.
Icy Can Pose Slip and Fall Risks 
Property owners can be liable for slips and falls that result from icy walkways or icy patches on any path where a person might slip and fall. However, property owner liability can vary based on the circumstances.
What are the types of situations where a business owner or another party may be liable for slips and falls on ice? When a property's walkway has icy patches or is covered in ice, the property owner (or the tenant, or another party in control of the premises) may have a duty to ensure that the icy area is treated so that it does not pose risks or may be required to warn others about the icy area.
Duty of New Jersey Property Owners with Icy Walkways 
Both New Jersey and Pennsylvania distinguish between invitees and licensees for purposes of premises liability. In other words, a property owner owes a higher duty of care to someone on the premises for business purposes as an invitee (such as a retail shopper or restaurant patron), versus a person on the premises for social reasons as a licensee (such as a friend or family member). To explain, we want to take a closer look at New Jersey law as an example. If there is ice on a walking path that causes a slip and fall, the property owner may be liable. It will depend upon what your status was on the property and whether the owner knew about the icy area.
If you were on the premises as an invitee, the property owner owes you a duty of reasonable care, which means the owner must take steps to ensure that the property is reasonably safe (and without dangers of an icy slip and fall). Differently, if you were on the premises as a friend or family member, or as another type of social guest, the property owner will only be liable if the following are true of the property owner:
Knew or had reason to know about the icy walkway;
Realized the icy walkway would pose an unreasonable risk of harm;
Had reason to believe that you would not recognize the icy pathway and risk on your own; and
Failed to take steps to protect you from any harm caused by the icy walkway.
Contact a New Jersey and Pennsylvania Slip and Fall Attorney 
Anyone who suffers an injury in a slip and fall accident should get in touch with an experienced Pennsylvania and New Jersey slip and fall attorney at Monaco Law to find out more about filing a claim. You may be eligible to file a premises liability lawsuit in order to seek compensation for your losses, and our firm can help. Joseph Monaco is a New Jersey and Pennsylvania personal injury lawyer serving Atlantic County, Burlington County, Cape May County, Camden County, Cumberland County, Gloucester County, Mercer County, Middlesex County, Ocean County, Salem County and all of South Jersey.
Source:
njcourts.gov/courts/civl/model-civil-jury-charges