Most Reported Injuries From A Slip And Fall Accident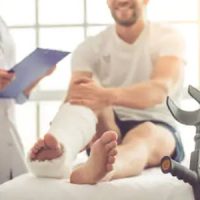 Slipping and falling, whether in private or out in public, can be incredibly embarrassing, but even more, it can also inflict significant physical bodily harm. Depending on how a slip and fall accident injury took place and what caused it, the victim of such an event may be entitled to financial compensation for losses that were suffered.
Slip and fall events could, in minor situations, lead to only bumps and bruises. Though, slips and fall incidents often result in much more significant physical bodily harm and sometimes even fatal injuries. Slip and fall accidents can be very serious, and when a person is injured on another entity's property, it can be well worth the while to have an attorney evaluate the slip and fall incident. Filing a claim might be the right next move for a victim to take.
In New Jersey, the South Jersey trip and fall lawyer at Monaco Law PC can meet with you to discuss your trip and fall experience and advise you on appropriate options, including filing a claim.
The Most Common Injuries That Happen In Slip and Fall Incidents 
It will not always be the case that a slip and fall incident will result in holding a property owner responsible for paying compensation to a victim. However, suppose it can be shown that the property owner violated premise liability laws and was negligent. In that case, this will likely mean that a claim against the property owner has a better chance of being successful and recovering compensation for victims.
There are many injuries that can be suffered in a slip-and-fall accident. The most common injuries that are reported each year include:
Bone fractures
Spinal cord injuries
Neck and back injuries
Concussions and traumatic brain injuries
Deep cuts and lacerations
Facial injuries causing disfigurement
Joint injuries
Death
Not only can slip and fall accidents lead to several different types of physical injuries, but even after an injury has healed, a victim may suffer chronic pain and stiffness in the area where the injury was located. In some instances, an injury from a slip and fall accident will never wholly be recovered from, in addition to always being a source of pain and irritation. Here, a victim may always suffer discomfort and limitations in life that they never had before they had a slip and fall accident.
Speak to a New Jersey Slip and Fall Attorney Today 
Slip and fall incidents have the potential to inflict life-long harm on victims. When a slip and fall event happens because a property owner was negligent in the maintenance and care of their premises, a victim may be able to file a suit to obtain compensation. For more information, a victim can take their case to be evaluated during a free consultation by a South Jersey slip and fall lawyer at Monaco Law PC. Call today at (609) 277-3166 for our New Jersey office and (215) 546-3166 for our office in Pennsylvania.
We are a New Jersey and Pennsylvania slip and fall law firm serving Atlantic County, Burlington County, Cape May County, Camden County, Cumberland County, Gloucester County, Mercer County, Middlesex County, Ocean County, Salem County, and all of South Jersey.
Source:
cdc.gov/falls/facts.html