Nursing Home Abuse Can Be Deadly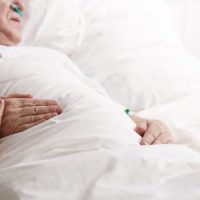 Elderly individuals are considered those who are aged 65 and older. In the United States, the elderly population is estimated to be around 39 million. That number is rapidly growing. Considering that there is a 70% chance that an elderly individual will need some type of daily assistance, the home health and long-term care service industry is also expanding.
While there are many good nursing homes and long-term care facilities, the industry does have a serious problem with elder abuse. In fact, as many as one in ten older adults will be the victim of abuse. Given the often frail nature of an older person who requires assistive services in a nursing home, when abuse happens, it can result in death.
If your loved one suffered abuse in a nursing home or lost their life due to misconduct at their nursing home, it may be possible to obtain financial compensation. The South Jersey nursing home abuse attorney at Monaco Law PC can help you get answers to the questions you have while also securing fair and full compensation for losses.
Deadly Nursing Home Abuse 
Abuse can come in many forms, such as physical, sexual, emotional, financial, and more. Depending on the health of your loved one and the type and extent of their abuse, the harm they suffered could be so severe that it is fatal. Consider the following deadly elder abuse situations:
Sexual abuse of an older person can cause internal damage, excessive bleeding, or even make it hard for the individual to stand or sit, which could cause deadly falls.
Physical abuse can also lead to functional impairments and substantial physical bodily harm that an older person may not be able to heal from, which could lead to death.
Neglect could be deadly, primarily if older adults depend on their caregivers for food, bathing, and other daily tasks. An ignored older person can suffer from dehydration and malnutrition, which may lead to their demise. Or, vital medications may not be administered, which could cause a medical condition to take over and be deadly.
Abandonment can have similar adverse implications like neglect. However, abandonment could mean leaving an elderly person in a location unfamiliar to them and without resources to obtain help. In such a perilous situation, the chances of death are high.
These are just some scenarios that detail how elder abuse can be deadly. And even though women are abused much more often than men, older men are not immune from mistreatment that can result in the loss of life.
Every year in the United States, as many as two million claims of elder abuse are reported. This number may seem high, and it is. However, when considering that for every one case that does get reported, several others are not, the actual number could be considerably higher.
Speak to a New Jersey Nursing Home Abuse Attorney Today 
Nursing home abuse can make older adults frightened, anxious, and depressed and also inflict serious and sometimes deadly physical bodily harm.
Call the New Jersey nursing home abuse lawyer at Monaco Law PC today to schedule a free consultation to discuss your nursing home abuse situation at (609) 277-3166 for our New Jersey office and (215) 546-3166 for our office in Pennsylvania.
We are a New Jersey and Pennsylvania nursing home abuse law firm serving Atlantic County, Burlington County, Cape May County, Camden County, Cumberland County, Gloucester County, Mercer County, Middlesex County, Ocean County, Salem County, and all of South Jersey.
Source:
cdc.gov/violenceprevention/elderabuse/index.html