Why You Should Never Apologize After A Car Accident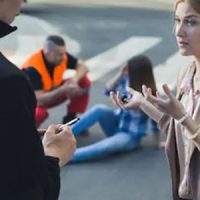 Car accidents happen every day throughout the country to the tune of approximately six million annually. These incidents can be frightening and shocking for anyone making it tough to think straight and determine how to act and what to say. After a crash, and especially if the incident was caused by another party's negligent actions, everything you do and say is critical and can impact your ability to secure financial compensation for your losses.
A car accident claim can include several different types of damages that a victim has suffered, such as medical expenses, reimbursement of lost wages, property damage costs, pain and suffering, and more. To secure the total amount of compensation you are owed, working with a legal professional who knows the system and what it takes to get maximum compensation can be beneficial.
Car accident victims in Pennsylvania or New Jersey can take their cases to the South Jersey car accident attorney at Monaco Law PC for evaluation and to learn more about legal options to obtain financial compensation.
Refrain from Saying "I'm Sorry" After a Crash
Feeling upset and disturbed in the aftermath of a car accident is natural. This can make it challenging to take the typically recommended steps, such as talking to witnesses, obtaining information from others in the crash, taking pictures, or calling 9-1-1, for instance. Also, you may be less measured with your words due to the trauma you just experienced.
Many people are decent, and when a crash happens, they want to see if others are ok and help. It is also a normal response to just automatically apologize when seeing others in distress or after a nerve-wracking event like a crash. But, saying "I'm sorry" after a collision happens, even if you were not the one who caused the incident, can harm you in the long run.
Once the dust settles, if you decide to pursue an injury claim for compensation and are on record as apologizing, you can bet the insurance company will use this as an admission of your guilt for playing a part in causing the crash. They can, and will, double down on these seemingly innocuous couple of words.
It is best to try and collect yourself after a crash, even though this may be hard. Try to stay calm and also say as little as possible. The only thing you want to communicate is meeting with witnesses and others in the crash to obtain their information. Talking too much can endanger the strength of a potential personal injury claim and the amount of financial compensation you can secure from it.
Speak with an Attorney at Monaco Law PC Today
If you were hurt in a car accident in Pennsylvania or New Jersey, please consider calling the Pennsylvania auto accident lawyer at Monaco Law PC today to schedule a free consultation at (609) 277-3166 for our New Jersey office and (215) 546-3166 for our office in Pennsylvania.
We are a New Jersey and Pennsylvania personal injury law firm serving Atlantic County, Burlington County, Cape May County, Camden County, Cumberland County, Gloucester County, Mercer County, Middlesex County, Ocean County, Salem County, and all of South Jersey.
Source:
penndot.pa.gov/TravelInPA/Safety/pages/crash-facts-and-statistics.aspx