How Deadly Are Head-On Collisions?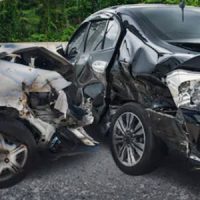 Any car accident can have deadly implications, but some crashes are far more dangerous than others. Head-on collisions may be some of the most shocking and frightening to be involved with. You are in your car driving straight, and then you see another vehicle barreling directly toward you, and you do not have the time to maneuver your vehicle away from the impending crash. You are literally seeing your car accident happening.
Head-on collisions, also called frontal collisions, happen when two cars drive toward each other and their fronts crash. Head-on collisions, statistically, produce some of the highest rates of death compared to all other types of car accidents.
Suppose you lost a loved one in a head-on collision or another fatal car accident in Pennsylvania or New Jersey. In that case, you have the right to consult with an attorney to determine if any legal remedies are available to you. The South Jersey wrongful death attorney at Monaco Law PC offers compassionate and sound legal guidance to individuals who lost loved ones in deadly car accidents.
The Risk of Death in a Head-On Collision
A head-on collision will likely produce deadly results. The Insurance Institute for Highway Safety (IIHS) indicates that in 2017, 58% of frontal collisions were deadly. That means more than half of the head-on collisions in 2017 resulted in the loss of life.
Due to the nature of certain driving environments, some crashes happen more often in specific locations than others. Head-on collisions can happen anywhere, but they appear to occur more in rural areas versus urban locations.
Deadly car accidents take place for a variety of reasons. Concerning deadly head-on collisions, the most common reasons why these incidents happen include:
Drivers that are distracted and not watching the road.
Drivers that are confused and drive on the wrong side of the road.
Drivers who are intoxicated and unable to operate their vehicles safely.
Drivers that are tired and unable to pay attention to driving and their surroundings.
All of these reasons above reflect driver error. Driver error is estimated to be the leading cause of all car accidents, responsible for as high as 96% of the crashes reported each year. Though, in some rare cases, a crash can happen unrelated to driver mistakes. If a car has faulty or defective parts, it could malfunction and lead to a collision.
In summation, head-on collisions are incredibly dangerous and deadly. They are some of the most perilous to be involved in and take many lives each year. Avoiding distractions while driving, wearing one's seatbelt, not drinking and driving or taking drugs and driving, adhering to the rules of the road, and refraining from speeding are all ways to improve safety and decrease the risk of a crash from happening.
Speak with an Attorney at Monaco Law PC Today
After a fatal car accident in Pennsylvania or New Jersey, please connect with the Pennsylvania wrongful death lawyer at Monaco Law PC today to schedule a free consultation at (609) 277-3166 for our New Jersey office and (215) 546-3166 for our office in Pennsylvania.
We are a New Jersey and Pennsylvania personal injury law firm serving Atlantic County, Burlington County, Cape May County, Camden County, Cumberland County, Gloucester County, Mercer County, Middlesex County, Ocean County, Salem County, and all of South Jersey.
Source:
iihs.org/topics/fatality-statistics/detail/passenger-vehicle-occupants#Crash-types