Top 6 Reasons Why Motorcyclists Go Unnoticed By Drivers Of Cars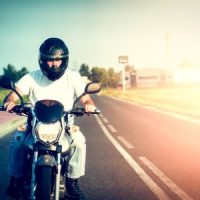 Motorcycles are prevalent on the roads, but they do not make up a large majority of the types of vehicles that traverse the roadways of the United States. Quite the opposite, in fact. They make up only a tiny portion of the motor vehicles that drive throughout the country. The National Safety Council (NSC) reports that motorcycles make up as little as 3% of the country's registered vehicles, yet when it comes to fatal crashes, motorcycle accidents are 14% of the total deadly accidents that happen yearly in the United States. Motorcycle accidents also make up 18% of the total amount of fatalities from crashes reported annually and 4% of injuries.
Suppose you were injured in a motorcycle accident in New Jersey or Pennsylvania or lost a loved one in a deadly crash. In that case, it is essential to meet with a personal injury attorney to go over your accident experience. You may be able to secure compensation for your damages like missed wages, medical costs, or property damages, for example.
The South Jersey motorcycle accident attorney at Monaco Law PC is dedicated to helping traffic accident victims secure the total compensation they are owed to account for all the losses suffered. Motorcycle accidents can have catastrophic results, and because of this, victims may be entitled to a large cash settlement. Let the legal team at Monaco Law PC help you when you are harmed in a motorcycle crash.
Why is it So Hard for Other Drivers to See Motorcyclists?
Motorcyclists face many challenges to their safety when they head out for a ride. First, they have little protection around them, so if they are hit or if they lose control of their bike, their body takes the brunt and full force of impact. This is why wearing a helmet is so important. Helmets are the most important protective device a motorcyclist can wear to reduce the chance of disabling injuries and death in a crash.
Second, other drivers may not see motorcyclists driving near them. Because of this, a driver in a larger automobile may make a move, like a lane change, for instance, and clip a motorcyclist driving next to them.
Several things make motorcyclists less visible to drivers, some of which happen due to a driver's negligence. Consider the following sampling of the reasons why other drivers may not see a motorcyclist.
Motorcycles are much smaller than cars like trucks or vans and can more easily go unnoticed.
Motorcycles may not be loud enough to be heard.
A driver that is distracted or tired is less able to pay full attention to the road.
The biker may not have bright colors or reflectors that make them stick out.
A driver may be intoxicated.
A motorcycle is riding in the blind spot of a car.
Speak to a Motorcycle Accident Injury Attorney in New Jersey Today
For help with a personal injury claim after a motorcycle accident in Pennsylvania or New Jersey, please connect with the New Jersey motorcycle accident injury lawyer at Monaco Law PC today to schedule a free consultation at (609) 277-3166 for our New Jersey office and (215) 546-3166 for our office in Pennsylvania.
We are a New Jersey and Pennsylvania personal injury law firm serving Atlantic County, Burlington County, Cape May County, Camden County, Cumberland County, Gloucester County, Mercer County, Middlesex County, Ocean County, Salem County, and all of South Jersey.