Avoiding a Slip n Fall
Tips for Avoiding a Slip & Fall on Ice and Snow
Joseph Monaco, Pennsylvania & New Jersey Trial Lawyer
Call or text 609-277-3166 in New Jersey or 215-546-3166, in Pennsylvania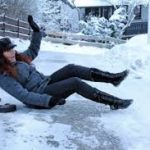 Many of us like living in an area with four weather seasons; however, we know that winter storms and cold temperatures can lead to dangerous conditions resulting in falls and auto accidents. But there are sensible ways to minimize the risk of being injured. If you are a pedestrian, you should obviously be careful:
Try not to be distracted. This will help you avoid stepping on slippery or icy conditions on sidewalks or parking lots
Do not be in a rush. Take your time and walk slowly
Wear appropriate footwear
Try to avoid dark areas that prevent you from noticing slippery conditions, and use handrails when available
Wipe your shoes when you enter a building
Keep your hands free so you can brace yourself if you do fall
If you are a property owner, it is your responsibility to keep your property safe for others:
After a storm, be sure to shovel and salt your walkways and stairs, and avoid piling snow where it can melt and refreeze in areas that pedestrians walk
If it is raining outside, you should put down floor mats and post wet floor signs. Having an umbrella rack is also helpful especially if you are a retail outlet
Inspect your property for leaky pipes o gutters that can lead to icy conditions when temperatures go below freezing
Keep your property well-lit so your customers can detect slippery conditions
Keep walkways and aisles free of clutter
If you or a loved one have been injured by a slip and fall accident in New Jersey or Pennsylvania, call or text me, Joseph Monaco, to learn your rights. Each state has its own laws regarding the duties of property owners and managers to keep their properties safe for their intended uses. You may phone or text me at 215-599-6544, in Pennsylvania or 609-277-3166 in New Jersey.
Published February 6, 2016