Steps You Should Take After An Auto Accident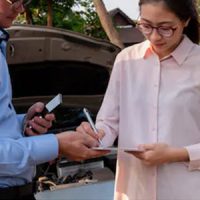 Auto accidents are extremely disorienting. Even in the hours following a crash, it can be difficult to get your bearings and to know what you need to do in order to be eligible to seek compensation. Consider the following steps that our New Jersey and Pennsylvania auto accident lawyers recommend you take.
Call 911 and Report the Accident 
In some auto accidents in Pennsylvania and New Jersey, it may be immediately obvious that injuries have occurred and that emergency responders and police need to come to the scene of the crash. Yet in other cases, you may be unsure about whether your injuries are serious enough to call 911. While very minor fender benders (in which it is obvious that no one has been injured) may not necessitate calling the police, any serious accident or any crash in which it is possible that someone has been injured should involve calling 911. Both New Jersey and Pennsylvania require all accidents involving injuries to be reported (within 10 days of the accident in New Jersey), and even crashes involving no injuries but a significant amount of property damage will need to be reported. In addition, it is helpful to call 911 so that the police can assess the scene of the crash and can issue a citation to an at-fault driver who may have been texting or intoxicated, for example, at the time of the crash. The existence of that citation — or even an arrest record — can prove to be important evidence in a claim you file later on.
Gather Your Own Evidence at the Auto Accident Scene 
If you are physically able to do so after an auto accident, it is important to gather your own evidence at the scene of the collision. Usually, this means using your smartphone to take photographs and videos that show the scene of the wreck. In addition, it is important to identify any potential witnesses who may have seen the accident happen and may be able to support your version of events.
Go to a Doctor for a Medical Assessment 
Seeing a doctor after any car crash is essential. You may not realize you have a serious injury that requires immediate treatment, but a doctor can identify it and begin the treatment process. You should remember that failing to see a doctor after a crash could result in your damages award being reduced due to your own negligence.
Contact a New Jersey and Pennsylvania Auto Accident Attorney 
After any type of auto accident in New Jersey or Pennsylvania, it is critical to get in touch with an experienced New Jersey and Pennsylvania auto accident attorney who can assist you with the claims process. Depending upon the details of the crash, you may be eligible to file an auto insurance claim or to file a lawsuit against the at-fault driver or another liable party. An advocate at our firm can help. Joseph Monaco is a New Jersey and Pennsylvania personal injury lawyer serving Atlantic County, Burlington County, Cape May County, Camden County, Cumberland County, Gloucester County, Mercer County, Middlesex County, Ocean County, Salem County and all of South Jersey.
Sources:
puc.pa.gov/motor-carrier/accident-reporting/
dmv.pa.gov/VEHICLE-SERVICES/Insurance/Insurance%20Overview/Pages/default.aspx
state.nj.us/dobi/division_consumers/insurance/basicpolicy.shtml