Side Crash Underride Guards
Joseph Monaco, PA & NJ Trial Lawyer
Call or text 609-277-3166 in New Jersey or 215-546-3166, in Pennsylvania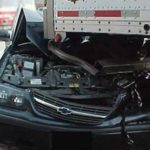 Tractor trailer underride protection is back in the news, particularly regarding side crash underride guards. If you are unfamiliar with this concept, it simple means installing mechanisms on a truck or tractor trailer that will prevent other vehicles from driving underneath the truck or trailer during a crash.
The first Federal Regulations were enacted in 1956 after the death of Actress Jane Mansfield. The regulations only dealt with the rear of the truck or trailer and were undeniably inadequate. Over the next several decades, the National Highway Safety Administration, and its predecessor agency, have continuously encountered substantial resistance from the trucking industry when there are attempts to improve the regulations. The last major updates to the regulations were done in 1998. However, even though calls for the regulations to mandate side underride guards have been made since the 1960s, side underride protection has never been mandated at the federal level.
The Insurance Institute for Highway Safety first began looking at the effectiveness of underride guards in 1978 and have conducted numerous follow-up studies over the ensuing decades. In fact, just this year, 2017, they did a study on the benefits of having side underride guards. As a practical matter, none of the regulations have ever been up to par with the engineering feasibility of implementing effective guards. To this day, the trucking industry still vehemently opposes side underride protections and the improvement of rear underride regulations.
One of my major achievements as a trial lawyer was a case involving inadequate underride protection at the rear of a flatbed tow truck. The crash involved a minivan rear ending the tow truck and driving underneath it during the crash. The steel flatbed penetrated the interior compartment of the minivan and struck a 13 year old passenger in the head, rendering him in a permanent vegetative state.
Currently, Minority Senate Leader Chuck Schumer has introduced a Bill to mandate side underride protections on all tractor trailers. Currently, only three cities: Boston, New York and Seattle, mandate them on city owned vehicles to prevent needless deaths and injuries. The Insurance Institute for Highway Safety has found that side underride guards will prevent hundreds of deaths each year in the United States.
Please contact your Senators and House Representatives asking them to support Senator Schumer's Bill. We spend 100's of billions of dollars each year to keep us safe from terrorism but ignore simple solutions in other areas that will actually save more lives.
If you or a family member have been killed or injured in Pennsylvania or New Jersey in an underride accident, please contact me, Joseph Monaco, by text or phone at 609-277-3166 in New Jersey or 215-546-3166, in Pennsylvania to learn your rights.
Published 06/18/2017