NIH Study Shows Chemical Hair Straighteners Linked to Increased Risk for Uterine Cancer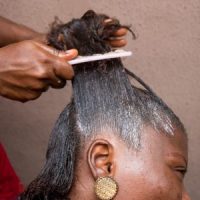 According to a new National Institute of Health study, chemical hair-straightening products have been found to be incredibly dangerous for women who use them. The study examined 33,497 American women aged 35-74 who were followed for close to 11 years. During this time it was reported that 378 of the women had developed uterine cancer. The study indicated that women who use hair-straightening products in specific, have a higher risk for uterine cancer than other women who do not use them.
If you or a loved one was injured or developed a disease related to a defective product then you may be able to file a claim for financial compensation for the losses you suffered. This includes toxic and harmful chemical hair-straightening products that if used, may have contributed to the development of uterine cancer in your body. With more than 25 years of experience practicing product liability law, the South Jersey defective product lawyer at Monaco Law PC can help you file a claim to get the financial compensation you are entitled to after a toxic product has caused you to suffer a serious disease condition like cancer.
The Link Between Chemical Hair-Straightening Products and Uterine Cancer 
The researchers surmised that women in the study who were frequent users of hair-straightening products, or who used them at least four or more times in a year had a 50% higher chance of being diagnosed with uterine cancer than other women who were not users of these products. Specifically, 1.64% of women who never used these products would be diagnosed with uterine cancer by the age of 70. By contrast, for the frequent users of the products, their risk was 4.05%.
For context, uterine cancer is a fairly rare form of cancer and accounts for approximately 3% of all new cancer cases reported in the United States. But, it is the most common form of cancer that affects the female reproductive system. Though, studies into uterine cancer show that the rates of diagnoses are rising in the country and have been heavily affecting Black women. In this particular study as high as 60% of the participants who reported being frequent users of chemical hair-straighteners were self-identified Black women. As a result, the findings in the study may be much more significant for Black women.
Although the study did not identify specific brands or ingredients that the participants used, there are many common chemicals that are found in these products that could be linked to the increase in uterine cancer cases that the study identified. Some of these ingredients include parabens, bisphenol, and formaldehyde.
Speak to a South Jersey Defective Product Attorney Today 
Chemical exposure to hair-straightener products could be putting the public, specifically Black women, at risk for developing cancer. Although more research is needed to confirm the initial findings, what has been brought to light is incredibly alarming.
If you or a loved one was harmed by a toxic product, please contact our South Jersey personal injury lawyer at Monaco Law PC. You are welcome to call (609) 277-3166 for our New Jersey office and (215) 546-3166 for our office in Pennsylvania.
We are a New Jersey and Pennsylvania defective product law firm serving Atlantic County, Burlington County, Cape May County, Camden County, Cumberland County, Gloucester County, Mercer County, Middlesex County, Ocean County, Salem County, and all of South Jersey.
Source:
nihrecord.nih.gov/2023/01/06/study-finds-hair-straightening-chemicals-raised-uterine-cancer-risk