NHTSA Names April As Distracted Driving Awareness Month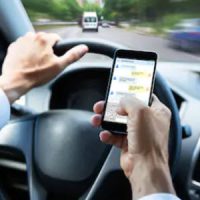 Distracted driving is incredibly dangerous and a leading reason why deadly car accidents happen every single year in the United States. Distracted driving is such a massive problem throughout the country that April is dedicated to bringing awareness to it. The National Highway Traffic Safety Administration (NHTSA) has named April as Distracted Driving Awareness Month, and for good reason too. In 2021 alone, there were well over 3,500 deaths that resulted from crashes which were caused by distracted driving.
Being in a car accident is a terrifying experience, and especially when it causes death and debilitating injuries, it can affect one's life in the long-term. Crashes that are caused by distracted driving are completely avoidable. This negligent behavior should be avoided at all costs by drivers to minimize the chances of a crash.
Victims that are harmed by a distracted driver should speak to an attorney to see what their options are for obtaining compensation. In New Jersey, the South Jersey car accident attorney at Monaco Law PC can help you if you were hurt in a car accident by a careless driver.
 What Can Be Done To Prevent Distracted Driving? 
Giving in to distractions is something that a driver has the ability to refuse to do. It is imperative that drivers themselves take responsibility for their actions when they are behind the wheel and keep their entire focus on driving.
Though, preventing distracted driving does not stop there. Everyone who is in a car also has a responsibility to remind drivers to avoid activities that take their attention away from the road. For example, if you see a driver grab their phone to read an email or send a text, ask them to put the phone down and pay attention to driving. If their phone has something important on it that is time-sensitive, it is best to find a place to pull over away from traffic where it is safer to look at one's phone.
Everything that a driver does that is unrelated to driving, including eating, putting makeup on, turning to talk to passengers in the rear of a car, and more, are all distractions. It only takes just a few seconds for a driver to have their mind and focus off of the task of driving for a catastrophic crash to happen.
Car accidents are a serious problem in the United States, with around six million occurring each year. Distracted driving is a big reason for many of them.
Speak to a Car Accident Injury Attorney in New Jersey Today 
Damages that a victim sustains after a crash, such as medical treatment and repairs for property damages, can add up and be very expensive. A personal injury claim may help victims obtain the financial compensation they need for all these costs and repercussions of car accidents.
If you would like assistance with your personal injury claim after a car accident in Pennsylvania or New Jersey, please connect with the New Jersey car accident injury lawyer at Monaco Law PC today to schedule a free consultation at (609) 277-3166 for our New Jersey office and (215) 546-3166 for our office in Pennsylvania.
We are a New Jersey and Pennsylvania personal injury law firm serving Atlantic County, Burlington County, Cape May County, Camden County, Cumberland County, Gloucester County, Mercer County, Middlesex County, Ocean County, Salem County, and all of South Jersey.
 Source:
nhtsa.gov/april-distracted-driving-awareness-month