Hotel And Motel Injuries Caused By Negligent Security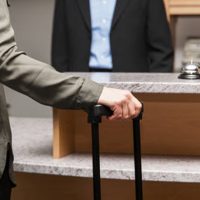 Whether you are traveling to see friends or family members, or you are traveling for business or other purposes, it is important to understand that a wide range of injuries can occur at hotels and motels. In some cases, these injuries at hotels or motels result from negligent security. To be clear, if a hotel or motel does not have adequate security on the premises, the hotel or motel owner could be liable for an assault that occurs on the premises. Our experienced New Jersey and Pennsylvania negligent security attorneys can provide you with more information about hotel and motel injuries caused by inadequate security and third-party assaults.
How Hotels or Motels Can Be Liable Assaults Perpetrated by Third Parties 
Hotels and motels may not be quite as safe as you would like to think they are. According to a recent report from CNBC, violent acts and assaults are the most commonly reported crimes at many hotels, accounting for more police reports than theft, burglaries, and drug offenses. Another report from ABC News suggests that economic downturn can result in a rise in crime rates at hotels, including an increase in assaults. While the party who perpetrates an assault or another act of violence at a hotel can be held accountable by the criminal justice system, it is important to know that the hotel or motel where the assault occurred could also be liable.
How can hotels or motels be liable for assaults? In short, if inadequate security made it easier for the third party to perpetrate the assault or other violent crime, then the hotel could be liable for damages due to negligent security.
Common Examples of Negligent Security at Pennsylvania and New Jersey Hotels 
What does negligent or inadequate security look like at a Pennsylvania or New Jersey hotel? The following are common examples of inadequate security for which a hotel or motel could be responsible for a criminal assault:
Failing to install locks on doors or windows;
Failing to repair a broken door or window lock;
Failing to install adequate lighting in the parking lot or on an exterior pathway;
Failing to repair a broken room phone that would have allowed the guest to call the police before the assault could occur; or
Providing a room key or other room access to a perpetrator without taking adequate security precautions.
File Your Claim within Two Years from the Date of the Assault
 To be eligible to file a negligent security claim against a hotel or motel owner, you will typically need to do so within two years from the date the assault occurred. If a criminal case is pending against the perpetrator, you will still likely need to move forward with your lawsuit against the hotel or motel since you will be filing a separate civil lawsuit. A lawyer at our firm can help.
Contact a Pennsylvania and New Jersey Negligent Security and Assault Attorney
 Do you have questions or concerns about filing a negligent security claim or another type of premises liability lawsuit? One of the experienced Pennsylvania and New Jersey negligent security and assault lawyers at Monaco Law PC can speak with you today. Joseph Monaco is a New Jersey and Pennsylvania personal injury lawyer serving Atlantic County, Burlington County, Cape May County, Camden County, Cumberland County, Gloucester County, Mercer County, Middlesex County, Ocean County, Salem County and all of South Jersey.
Sources:
cnbc.com/2022/09/22/what-are-the-most-common-crimes-in-hotels-not-theft-say-uk-police-.html
abcnews.go.com/Business/story?id=7611072&page=1
legis.state.pa.us/cfdocs/legis/LI/consCheck.cfm?txtType=HTM&ttl=42&div=0&chpt=55&sctn=24&subsctn=0
njcourts.gov/attorneys/assets/civilcharges/5.20F.pdf?c=QZm