Furniture Tip-Overs And Product Defect Claims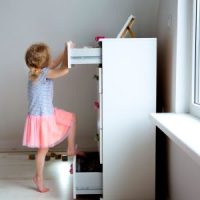 Consumer products frequently have defects that can result in serious and even deadly injuries when we use them. Some of the most devastating injuries caused by product defects are those that cause severe child injuries, including furniture tip-over accidents. You might have read about dressers being recalled due to the risk of a tip-over accident, or news about toddlers or young kids being crushed by furniture that tips over in the home. Most often, furniture tip-over accidents do affect children, but they can also cause injuries to adults. Our New Jersey and Pennsylvania product defect lawyer wants to provide you with more information about these accidents and how you may be able to file a product liability lawsuit.
What is a Furniture Tip-Over Accident? 
Furniture tip-over accidents are accidents that happen when heavy furniture — like dressers, bookcases, or TVs — tip over and injure someone underneath. According to Consumer Reports, tip-over testing in consumer industries is voluntary, so many companies do not do it. As a result, consumers (usually children) suffer serious injuries that could have been avoided.
Preventing Furniture Tip-Over Injuries in Your Home 
What can you do to prevent a furniture tip-over injury? Parents and caregivers should not have to worry that they have purchased a furniture item that could pose serious dangers to their children. However, it is important to remember that many dangerous furniture pieces are not recalled until after serious injuries occur, so it is critical to take precautions. According to the American Academy of Pediatrics (AAP), you can take the following steps to help prevent a tip-over:
Secure furniture and mirrors to the wall with anchors;
Keep heavier items in lower shelves or drawers;
Do not put objects on top of dressers that children might want, such as toys or remotes;
Avoid putting a TV on top of a dresser; and
Mount a flat-screen TV to the wall or to your furniture.
Filing a Product Liability Lawsuit After a Furniture Tip-Over in New Jersey or Pennsylvania
 After furniture tips over and causes a serious injury, you could be eligible to file a product liability lawsuit. There are three general types of product liability lawsuits that can be filed in New Jersey and Pennsylvania, including design defect claims, manufacturing defect claims, and marketing defect claims. Marketing defect cases are also known as "failure to warn" cases. Most furniture tip-over cases are brought as marketing defect claims, where the plaintiff alleges that the furniture company failed to warn about tip-over risks and failed to include instructions for securing the dresser or other furniture item safely to the wall.
Contact a Product Defect Attorney in New Jersey and Pennsylvania
 If you or someone you love sustained injuries in a furniture tip-over accident, you should find out about seeking compensation by speaking with a New Jersey and Pennsylvania defective product lawyer at Monaco Law PC. Joseph Monaco is a New Jersey and Pennsylvania personal injury lawyer serving Atlantic County, Burlington County, Cape May County, Camden County, Cumberland County, Gloucester County, Mercer County, Middlesex County, Ocean County, Salem County and all of South Jersey.
Sources:
consumerreports.org/furniture/furniture-tip-overs-hidden-hazard-in-your-home-a2683907691/
healthychildren.org/English/safety-prevention/at-home/Pages/Preventing-Furniture-and-TV-Tip-Overs.aspx