Bone Fractures And Auto Accident Cases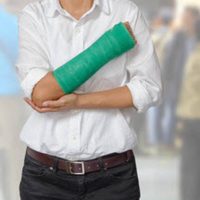 Auto accidents in New Jersey and Pennsylvania can result in many different types of injuries, and often those injuries can be severe and debilitating. Bone fractures are one type of injury that can be serious and can lead to significant disabilities. There are many different types of bone fractures, also known simply as fractures or as broken bones, that can happen in traffic collisions. The severity of a fracture will depend upon where it occurs on the body and what type of fracture it is. Our New Jersey and Pennsylvania auto accident lawyers want to provide you with more information about fractures in auto accidents, and how to file a claim for compensation after suffering a broken bone in a collision.
Learning More About Fractures 
What do you need to know about broken bones? The following information about fractures comes from the American Academy of Orthopedic Surgeons (AAOS):
Broken bones, or fractures, can refer to a bone that is "completely fractured or partially fractured in any number of ways," including "crosswise, lengthwise, in multiple pieces";
Fractures tend to be classified either a closed or open/compound fractures, with an open fracture referring to a break in which "the skin may be pierced by the bone or by a blow that breaks the skin at the time of the fracture" and a closed fracture being one where the skin is not pierced; and
Common types of fractures include stable fractures in which "the broken ends of the bone line up and are barely out of place," transverse fractures that have a horizontal bone break, oblique fractures where the bone break occurs in an angled pattern, and comminuted fractures where the bone has shattered into three pieces or more.
Serious Car Accident Injuries and Broken Bones
 Both New Jersey and Pennsylvania have no-fault auto insurance systems, and the states have similar rules for filing a lawsuit after a car accident. New Jersey gives motorists an option when purchasing auto insurance whether to obtain a policy with or without a verbal threshold, or a serious injury threshold. These serious injury thresholds mean that a person who is injured in an auto accident will need to prove that their injury is serious enough to warrant a lawsuit in order to seek additional damages including non-economic damages for pain and suffering. The specifics that you will need to prove to show you meet the threshold requirement will depend upon whether you are filing a claim under New Jersey or Pennsylvania law. Generally speaking, however, bone fractures can allow for a lawsuit and can meet threshold requirements.
Under New Jersey law, fractures can specifically allow an injured party to file a lawsuit. Under Pennsylvania law, a fracture may be severe enough to result in a "serious impairment of body function" such that the injured party can file a lawsuit.
Contact a New Jersey and Pennsylvania Auto Accident Lawyer 
You should get in touch with one of the experienced Pennsylvania and New Jersey auto accident lawyers at Monaco Law PC. Joseph Monaco is a New Jersey and Pennsylvania personal injury lawyer serving Atlantic County, Burlington County, Cape May County, Camden County, Cumberland County, Gloucester County, Mercer County, Middlesex County, Ocean County, Salem County and all of South Jersey.
Sources:
https://orthoinfo.aaos.org/en/diseases–conditions/fractures-broken-bones/
https://law.justia.com/codes/new-jersey/2009/title-39/39-6a
https://www.legis.state.pa.us/WU01/LI/LI/CT/HTM/75/00.017.002.000..HTM