An Explanation of Psychological Harm After A Car Accident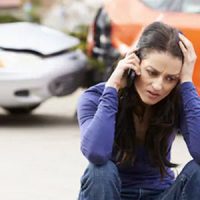 Many car accidents result in physical injuries. According to the Centers for Disease Control and Prevention (CDC), more than 2.1 million emergency room visits were reported in 2020 for injuries that transpired after car accidents. Often, when one considers filing a personal injury claim for compensation after a crash, they only consider the physical bodily harm as a damage to include for compensation. But car accidents can inflict far more harm than just physical injuries. They can also cause significant psychological distress too.
When filing a personal injury claim, it is important to cover all of your losses. This includes the trauma your accident experience caused you. An attorney will be able to identify the full amount of damages you suffered when determining what your claim is worth.
Joseph Monaco is a South Jersey car accident attorney with more than three decades of experience practicing law. If you were injured in a crash, you can connect with Monaco Law PC for assistance with your claim.
Defining Psychological Damages Caused By Car Accidents 
A car accident can cause psychological injuries. The extent of the mental anguish a victim of a car accident experiences can vary from mild to debilitating. Psychological trauma after a crash can be so significant that it makes daily life very difficult to manage. Some of the mental health conditions that could develop after a crash include:
Post-traumatic stress disorder (PTSD) which can impact the ability to sleep, cause flashbacks of the accident, and an unrelenting feeling of terror.
Phobias can develop, which leads to excessive worrying and fear that persists in daily life or only when in a car.
Anxiety disorder can paralyze a person with never-ending feelings of unease and concern.
Depression can lead a victim to feel an overwhelming sadness and cause a loss of interest in personal relationships and activities.
Personality and behavioral changes can result after a crash that impacts the ability to live a functional and productive life.
Mood disorders can lead to periods of feeling very low and other periods in a hyper-sensitive state.
Psychological trauma after a crash can be so considerable a person may lose their ability to interact with others, continue to hold onto gainful employment, degrade one's overall health and wellbeing, and be immensely disruptive to living a prosperous and contented life.
When emotional trauma and psychological harm result after a car accident, these damages are very real and can be included in a personal injury claim for financial compensation.
Speak to a South Jersey Car Accident Injury Lawyer Today 
Car accidents can take a tremendous toll on a victim and degrade their quality of life in terms of both physical bodily harm and psychological harm. All damages, including psychological harm, must be accounted for in a personal injury claim.
For assistance with your claim, please call the South Jersey personal injury lawyer at Monaco Law PC at (609) 277-3166 for our New Jersey office and (215) 546-3166 for our office in Pennsylvania if you were injured in a car accident.
We are a New Jersey and Pennsylvania personal injury law firm serving Atlantic County, Burlington County, Cape May County, Camden County, Cumberland County, Gloucester County, Mercer County, Middlesex County, Ocean County, Salem County, and all of South Jersey.