What Is Intexticated Driving?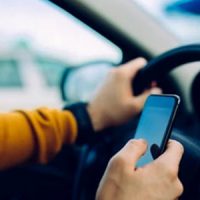 Intoxicated driving — including drunk driving and drugged driving — is a common cause of car crashes in New Jersey and Pennsylvania. Indeed, according to the National Highway Traffic Safety Administration (NHTSA), a total of 11,654 people died in drunk driving collisions in 2020, for an average of 32 deaths every day from alcohol-impaired collisions. Most adult drivers know that alcohol significantly impairs their driving ability, and they know that intoxicated driving is extremely dangerous. However, drivers do not always recognize that certain forms of distracted driving can be just as dangerous, if not more dangerous than, intoxicated driving. Have you heard of "intexticated" driving? This is a term that the AAA Foundation for Traffic Safety has created to underscore the very serious risks of texting while driving.
The term "intexticated" driving is designed to sound like "intoxicated" driving, thereby reminding motorists that texting while driving can pose accident risks in the same way that drunk driving can. What should you know about intoxicated driving? Consider the following information from our New Jersey and Pennsylvania car accident lawyer.
Texting While Driving is Similar to Intoxicated Driving 
It is important to be clear that "intexticated" driving — or texting while driving — may be just as dangerous as drunk driving. According to AAA, "distracted driving has the same deadly consequences as drinking and driving." The AAA Foundation for Traffic Safety poses the following language to motorists: "You wouldn't drink and drive, so why would you text and drive? Both actions put your life — and the lives of others — at risk. Put down your phones. Lives depend on it. Don't drive intoxicated. Don't drive intexticated."
The key piece of information is this: texting while driving is just as risky as drunk driving, and it is critical for all motorists to understand the serious risks of distracted driving if we want to prevent crashes.
Liability for Texting While Driving 
If another motorist causes a crash as a result of texting while driving, that driver can be liable for injuries. While most Pennsylvania and New Jersey injury claims will begin with a no-fault insurance claim, it may be possible to file a lawsuit against a distracted driver if you can prove that the driver was texting and caused the crash.
Our New Jersey and Pennsylvania car accident lawyer can discuss ways of proving that a motorist was texting while driving, and we can help you to move forward with a lawsuit against an "intoxicated" driver, as AAA might say.
Contact a Distracted Driving Accident Lawyer in Pennsylvania and New Jersey 
Texting while driving is a problem throughout Pennsylvania and New Jersey, and it routinely results in serious and deadly injuries in collisions. If you were injured in a crash that you believe resulted from another motorist's decision to text and drive, it is essential to seek help from an experienced Pennsylvania and New Jersey distracted driving accident lawyer at Monaco Law PC who can help you to file a claim for financial compensation. Joseph Monaco is a New Jersey and Pennsylvania personal injury lawyer serving Atlantic County, Burlington County, Cape May County, Camden County, Cumberland County, Gloucester County, Mercer County, Middlesex County, Ocean County, Salem County and all of South Jersey.
Sources:
nhtsa.gov/risky-driving/drunk-driving
aaa.com/dontdrivedistracted/