Mistakes To Avoid In A Distracted Driving Accident Claim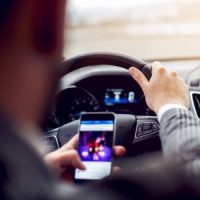 Distracted driving is extremely dangerous, and it commonly results in serious and deadly crashes. According to a report from the AAA Foundation for Traffic Safety, distracted driving can be as hazardous as intoxicated driving, potentially resulting in injuries and deaths at a rate similar to or higher than injuries and deaths caused by drunk and drugged driving. If you were injured in a collision caused by a distracted driver, it is essential to learn what to do after the crash in order to seek compensation, as well as what you should avoid doing. There are certain mistakes that people can make, and those mistakes can limit their ability to obtain full compensation in some cases. Consider the following mistakes to avoid in a distracted driving case.
Mistake: Failing to Obtain Witness Contact Information After the Crash 
After a distracted driving crash, you may be disoriented, and you might be seriously injured. If you cannot physically gather evidence at the scene of the accident and obtain contact information for witnesses, you should keep in mind that the most important thing is focusing on your health and getting the medical care you need. However, if you are able to identify witnesses and ask for contact information, it is a mistake to forget to do this. Witnesses can be critical for proving that the at-fault driver was distracted, especially if the distraction did not involve use of technology that can be tracked. For example, a witness might have seen the distracted driver eating at the wheel, or reaching into the passenger seat or back seat for an object.
Mistake: Waiting Too Long to See a Doctor for a Medical Assessment 
No matter what the circumstances are after a distracted driving accident, it is a mistake to wait before you see a doctor for a medical assessment. Many kinds of injuries do not immediately cause symptoms, even serious ones. As such, it is essential to have a doctor assess you and to provide quick and effective treatment when possible. If you make the mistake of waiting too long to see a doctor, New Jersey's or Pennsylvania's comparative fault laws could result in your damages award being reduced, or in you being barred from obtaining damages altogether.
Mistake: Assuming Distracted Driving Only Involves Technology Use 
Distracted driving can result from many more distractions than those caused by technology, as the National Safety Council (NSC) emphasizes. Do not make the mistake of assuming distracted driving only involves phone use. You could fail to notice important information or to gather evidence that could be critical in your case.
Contact a New Jersey and Pennsylvania Distracted Driving Accident Attorney 
Distracted driving collisions can be disorienting, and it can be difficult to know exactly what you need to do in order to preserve your ability to seek compensation. It is important to consider the steps above and to get in touch with a New Jersey and Pennsylvania distracted driving accident lawyer at Monaco Law PC as soon as possible to discuss your options. Depending upon the circumstances of your case, you could be eligible to file an insurance claim or to file a lawsuit against the distracted motorist, and our firm can help. Joseph Monaco is a New Jersey and Pennsylvania personal injury lawyer serving Atlantic County, Burlington County, Cape May County, Camden County, Cumberland County, Gloucester County, Mercer County, Middlesex County, Ocean County, Salem County and all of South Jersey.
Sources:
aaa.com/dontdrivedistracted/
injuryfacts.nsc.org/motor-vehicle/motor-vehicle-safety-issues/distracted-driving/?utm_source=Google_Search&utm_medium=cpc&utm_campaign=Injury_Facts&utm_source=&utm_medium=&utm_name&gclid=Cj0KCQiA4aacBhCUARIsAI55maF7DXUCOh7H1uuVH5YUHOuiKOcYAI-hlFH20RenVo8VkrWbqTumHlYaAp93EALw_wcB