How Can I Prove Fault In A Drowsy Driving Crash?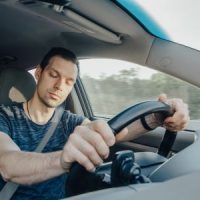 Drowsy driving is a serious problem, and it can result in severe and life-threatening motor vehicle collisions in New Jersey and Pennsylvania. According to the Sleep Foundation, drowsy driving can affect anyone, and it is more common than most people think. Indeed, although it can be difficult to quantify the number of drowsy driving trips taken, some estimates say that approximately 60 percent of drivers get behind the wheel while they are too tired to drive safely at least once annually. In any given month, as many as 1 out of every 25 adult drivers has actually fallen asleep behind the wheel. The National Highway Traffic Safety Administration (NHTSA) estimates that drowsy driving results in more than 90,000 collisions every year and approximately 800 fatalities.
When a drowsy driving accident happens, how can you prove fault? You may be concerned that proving fault in a drowsy driving collision is more complicated than in other types of crashes since there is no clear measure of a person's level of fatigue. However, it is important to know that there are a variety of ways you may be able to show that a drowsy driver caused the accident in which you were injured. The following are some of the ways you may be able to prove fault.
Witness Statements 
Witness statements can be extremely important for proving fault in a drowsy driving collision in Pennsylvania or New Jersey. For example, occupants of other vehicles might have noticed the driver engaging in behaviors or showing signs of drowsiness while driving. The Sleep Foundation identifies the following as some common signs of drowsy driving that occupants of other vehicles might have noticed:
Yawning frequently;
Drifting into another lane;
Drifting onto rumble strips;
Following too closely behind other vehicles; or
Inability to maintain a speed.
Evidence of Sleep Deprivation 
Beyond witness statements, you may be able to obtain evidence of the driver's recent sleep deprivation. For example, the driver might have been on the road for an extended period of time without taking a rest break. Or, for instance, the motorist might have worked a night shift or a series of irregular work shifts leading up to the drowsy driving accident.
Medical Records Showing a Sleep Disorder 
A drowsy driver's medical records may also be important for proving fault. For example, medical records might show that the motorist has sleep apnea or another type of sleep disorder, making it much more likely that a drowsy driving crash would occur.
Use of Alcohol or Medications 
Evidence that a driver was using alcohol or other medications before getting behind the wheel may also be used to support a drowsy driving case.
Contact a Car Crash Lawyer in Pennsylvania and New Jersey 
If you were injured in a collision and need assistance proving that a drowsy driver was at fault, you may have multiple options available to you. The experienced Pennsylvania and New Jersey auto accident lawyer at Monaco Law PC can evaluate your case for you today and can discuss your options for showing that the defendant's drowsy driving caused the crash in which you were injured. Joseph Monaco is a New Jersey and Pennsylvania personal injury lawyer serving Atlantic County, Burlington County, Cape May County, Camden County, Cumberland County, Gloucester County, Mercer County, Middlesex County, Ocean County, Salem County and all of South Jersey.
Sources:
sleepfoundation.org/drowsy-driving