Frequent Causes Of Car Accidents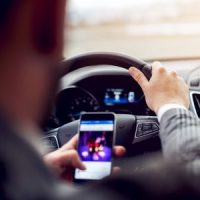 What causes car accidents in New Jersey and Pennsylvania? Traffic collisions can have a wide range of causes, and it is critical to understand how causation affects liability. To be clear, the party or parties who are liable for your injuries usually must have caused the collision in some respect, although there are some limited exceptions. The following are some of the more frequent causes of motor vehicle collisions.
Distracted Driving 
Distracted driving is one of the most common causes of motor vehicle collisions in Pennsylvania and New Jersey. According to the National Highway Traffic Safety Administration (NHTSA), distracted driving results in more than 3,000 traffic fatalities every year and thousands of additional accidents resulting in nonfatal injuries. It is important to know that distracted driving can take many forms. Not only can a motorist be liable for distracted driving caused by talking or texting on a phone, but a driver can also be liable for distractions resulting from conversations with passengers, GPS and radio adjustments, eating while driving, and grooming while driving, for example.
Impaired Driving 
Impaired driving resulting from the use of alcohol or drugs, including prescription medications, leads to thousands of injuries and deaths every year and billions of dollars in economic costs, according to the U.S. Centers for Disease Control and Prevention (CDC). Drunk or impaired drivers can be liable for accidents they cause, and in some cases the restaurant or bar that served the driver alcohol could be responsible.
Driver Inexperience 
Sometimes driver inexperience results in serious and deadly accidents. The CDC cites driver inexperience as one of the leading causes of crashes caused by teen drivers.
Aggressive Driving or Road Rage 
Both aggressive driving and road rage can be responsible for severe injuries in motor vehicle collisions. According to the AAA Foundation for Traffic Safety, about 80 percent of drivers admit to experiencing aggression at least once behind the wheel in the last 30 days. When motorists engage in aggressive driving or acts of road rage, they can cause serious accidents. Common forms of aggressive driving that can result in motorist liability include but are not limited to:
Speeding;
Tailgating;
Weaving in traffic;
Running stop lights or red lights; or
Attempting to prevent slower drivers from changing lanes.
Auto Defects 
Vehicle defects can cause accidents, and the designer or manufacturer of the defective part (or of the vehicle itself) may be liable. In some cases, the retailer of the vehicle also could be liable.
Road Debris and Road Hazards 
According to AAA, road debris is responsible for about 200,000 accidents and more than 500 fatalities every year. Depending upon the circumstances, the government entity responsible for road maintenance could be liable when road debris causes a collision.
Contact an Experienced Pennsylvania and New Jersey Car Accident Attorney 
Car accidents can have many different causes, and it is critical to work with one of the experienced Pennsylvania and New Jersey car accident attorneys at Monaco Law PC to determine who could be liable. Our firm can help you to seek compensation through an auto insurance claim and, where appropriate and necessary, through a car accident lawsuit against the liable party. Joseph Monaco is a New Jersey and Pennsylvania personal injury lawyer serving Atlantic County, Burlington County, Cape May County, Camden County, Cumberland County, Gloucester County, Mercer County, Middlesex County, Ocean County, Salem County and all of South Jersey.
Sources:
nhtsa.gov/risky-driving/distracted-driving
cdc.gov/transportationsafety/impaired_driving/index.html
usatoday.com/story/news/2016/08/11/aaa-road-debris-causes-avoidable-crashes-deaths/88563500/
cdc.gov/transportationsafety/teen_drivers/teendrivers_factsheet.html
exchange.aaa.com/safety/driving-advice/aggressive-driving/