What You Should Know About Pedestrian Accidents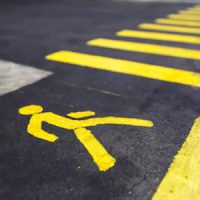 In urban, suburban, and rural areas of New Jersey and Pennsylvania, pedestrians can suffer serious injuries in collisions with automobiles. In most pedestrian accident cases, the driver involved in the collision is partially or fully responsible for the crash and for resulting pedestrian injuries. If you were injured in a pedestrian accident, it is important to learn more about how these accidents happen, what you might be able to do to avoid a pedestrian accident, and how to file a claim for compensation.
Get the Facts About Pedestrian Accidents 
Pedestrian accidents happen more often than you might suspect. According to the U.S. Centers for Disease Control and Prevention (CDC), in 2020 alone, more than 7,000 pedestrians were killed. In total, about one in every six people who died in traffic collisions were pedestrians, and more than 100,000 pedestrians required treatment in emergency departments for injuries they suffered in collisions with automobiles.
The National Safety Council (NSC) explains that about 80 percent of reported pedestrian accidents occur in urban areas, while about 18 percent occur in rural areas. More than 75 percent of all pedestrian accidents occur after dark, while fewer than 25 percent occur during daylight or dusk.
You Can Take Steps to Avoid a Pedestrian Accident 
While you may not be able to avoid all pedestrian accidents, you can take some steps to stay safe:
Wear visible clothing;
Only cross at designated crosswalks;
Avoid texting or talking on a smartphone while walking;
Walk on a sidewalk when possible; and
Do not walk if you are intoxicated.
Multiple Parties Could Be Liable for Your Pedestrian Accident Injuries 
One or more parties could be liable for your pedestrian accident injuries, and you may be able to seek compensation. Often, the driver of the motor vehicle is at fault and may be fully liable. Other parties that could bear responsibility include, for example, the city where the accident occurred due to a poorly maintained road or sidewalk, or the maker of the automobile if the collision resulted from a defect.
File Your Claim Before the Statute of Limitations Runs Out 
Pedestrian accident claims, like other types of personal injury lawsuits, must be filed before the statute of limitations runs out. In both Pennsylvania and New Jersey, there is a two-year statute of limitations on most pedestrian accident lawsuits. The clock will start to tick on the date of your accident. If you do not file a lawsuit within that two-year period, both Pennsylvania and New Jersey will consider your claim to be time-barred under state law.
Contact a New Jersey and Pennsylvania Pedestrian Accident Attorney 
Were you recently injured in a pedestrian accident? It is critical to seek advice as soon as possible from an experienced New Jersey and Pennsylvania pedestrian accident attorney at Monaco Law PC who can help you to file a claim for compensation. Joseph Monaco is a New Jersey and Pennsylvania personal injury lawyer serving Atlantic County, Burlington County, Cape May County, Camden County, Cumberland County, Gloucester County, Mercer County, Middlesex County, Ocean County, Salem County and all of South Jersey.
Sources:
injuryfacts.nsc.org/motor-vehicle/road-users/pedestrians/
cdc.gov/transportationsafety/pedestrian_safety/index.html#:~:text=More%20than%207%2C000%20pedestrians%20were,a%20motor%20vehicle%20in%202020.&text=That's%20about%20one%20death%20every%2075%20minutes.&text=One%20in%20six%20people%20who%20died%20in%20crashes%20in%202020%20were%20pedestrians