What is a Demand Letter in a Personal Injury Case?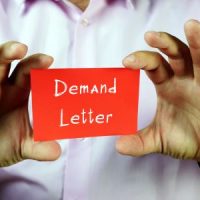 The purpose of filing a personal injury claim is to obtain financial compensation for your damages. Damages are the legal term that describes your losses. The costs of your medical treatment, repair bills for destroyed property, and even pain and suffering you experienced may be considered damages that deserve compensation. When your case is evaluated by an attorney, it can be valued appropriately. Then, after you know how much your claim is worth, your attorney can send a demand letter to the insurance company for the amount of money that you believe you are entitled to.
Usually, insurance companies are not too keen on paying victims even when the victim has a legitimate claim and is entitled to a settlement. This illustrates one of the many reasons why having an attorney on your side is helpful when you are filing a personal injury claim for financial compensation. An attorney will be able to accurately calculate your damages and negotiate on your behalf which can increase your chances of getting the most compensation from your claim.
If you would like to file a personal injury claim in New Jersey but do not know what your claim is worth, then you are welcome to reach out to a South Jersey personal injury attorney at Monaco Law PC.
Speak to a South Jersey Personal Injury Lawyer Today 
It is essential that you get the most from your New Jersey personal injury claim, and the South Jersey personal injury lawyer at Monaco Law PC can help you achieve the best outcome. Please call (609) 277-3166 for our New Jersey office and (215) 546-3166 for our office in Pennsylvania.
We are a New Jersey and Pennsylvania personal injury law firm serving Atlantic County, Burlington County, Cape May County, Camden County, Cumberland County, Gloucester County, Mercer County, Middlesex County, Ocean County, Salem County, and all of South Jersey.