What Damages Can A Pregnant Woman Obtain After A Crash?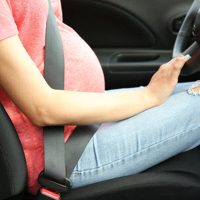 Pregnant women have to take extra special care of their bodies because they are carrying the life of their child when they are pregnant. Every action and thought that a pregnant woman has is usually impacted by how it will affect her baby. And while there are many things that a pregnant woman can do to keep her baby safe, there are some things that are out of her control. One of these things would be negligent drivers. This is because most women will change their behavior while they are pregnant for the benefit of their baby, but this typically does not include going as far as avoiding being in a vehicle. Traveling from one location to the next is usually a necessary thing to do and is done on a daily basis.
Car accidents frequently happen across the nation. The great majority of vehicular crashes occur due to driver mistakes. While there are times when other drivers can maneuver their car out of harm's way, there are many other instances where a crash is unexpected and impossible to avoid. Suppose a pregnant woman is in a car accident. In that case, they are a vulnerable population that can not only sustain physical bodily harm to their own body but their unborn babies can also be hurt.
If you were pregnant and in a car accident in New Jersey, this is no doubt a very stressful and emotional time. And, if you are filing a personal injury claim against the negligent driver that caused your accident, taking on that additional burden of handling a claim alone can put more pressure on you and impact your pregnancy further. Instead, having a South Jersey car accident attorney at Monaco Law PC manage a claim on your behalf can lighten the load and allow you to focus completely on your pregnancy.
Obtaining Compensation After a Crash 
Car accidents that involve pregnant women can result in physical harm to the woman, fetal injury, and even fetal death. Every year in the United States, many thousands of miscarriages occur from car accidents.
If you were in a car accident while pregnant, even if you do not feel like you have been harmed, it is still necessary to see a doctor. Having a doctor check your physical health, and that of your baby is essential. Then, it is imperative to listen to the doctor's recommendations and follow the doctor's orders.
If you decide to take legal action, you may be able to obtain compensation for damages such as:
Medical expenses for the mother and testing for her baby.
Medical treatment for the mother and her baby.
Pain and suffering.
Missed wages from time away from work.
Damages associated with complications during delivery.
Medical expenses may be necessary for the future of injured babies.
Emotional distress.
Speak to a New Jersey Car Accident Attorney Today
 Filing a claim by yourself is a lot to take on for anyone, but especially for a pregnant woman concerned about her baby's health. Working with an attorney can be advantageous. You are welcome to call the South Jersey car accident lawyer at Monaco Law PC at (609) 277-3166 for our New Jersey office and (215) 546-3166 for our office in Pennsylvania.
We are a New Jersey and Pennsylvania car accident law firm serving Atlantic County, Burlington County, Cape May County, Camden County, Cumberland County, Gloucester County, Mercer County, Middlesex County, Ocean County, Salem County, and all of South Jersey.
Source:
state.nj.us/transportation/refdata/accident/crash_data.shtm