Seatbelt Use Cuts Death Rates From Car Accidents In Half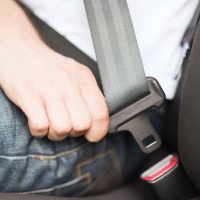 The Pennsylvania Department of Transportation reported that in 2021 alone, there were 117,899 reportable crashes in the Keystone State. That year, 1,230 people died in fatal crashes, and 65,599 people were injured. In 2021, these stats showed that every day there are 323 reportable car accidents which comes out to 13 each hour. Every seven hours, someone dies in a fatal car accident in Pennsylvania.
Car accidents can have devastating outcomes, including death. It is imperative to be proactive with your behavior to help reduce the risk of being in a car accident and to minimize the potential physical bodily harm you may suffer. It is highly recommended to buckle up and wear your seatbelt whenever you get in the car. Whether you are a driver or a passenger, seatbelts' value and safeguarding can not be minimized. Wearing a seatbelt can not only help you avoid catastrophic injuries, but it may also save your life.
Considering that driver mistakes cause as high as 96% of all traffic accidents, if you were hit by another car, there is a good chance negligence was involved. When a careless party behaves negligently and causes an accident, victims have the right to pursue financial compensation for their losses. It is imperative to have your case reviewed by an experienced attorney who can advise you of your legal options and help you throughout each step of the injury claims process.
In Pennsylvania and New Jersey, the Pennsylvania car accident lawyer at Monaco Law PC offers legal counsel and support.
Seatbelts and Safety
According to the Centers for Disease Control and Prevention (CDC), seatbelt use can reduce the chances of suffering serious injuries and death when a crash happens by 50%. Since car accidents are such a widespread problem in the United States, with approximately six million occurring yearly, doing what you can to protect yourself can go a long way. It is also worth noting that car accidents are the leading cause of death for men and women aged one – 54.
Even if you are just driving to a close destination, it is essential to put your seatbelt on. The distance of your travels does not matter. When you get behind the wheel or sit in a car as a passenger, it is critical to buckle up each and every time.
Despite the evidence that is out there and easily accessible about the benefits of wearing a seatbelt, many people don't. The CDC indicates that 87% of adults say they always wear their seatbelts nationally. In Pennsylvania, that number falls much lower than the national average. Only 79% of Pennsylvanians say that they always make sure to have their seatbelt on.
Speak to a Pennsylvania Car Accident Attorney Today
Seatbelts provide some protection from major injuries and death in a crash, but nothing can provide complete protection when a collision happens.
If you or a loved one suffered injuries because a negligent driver hit you, please call the Pennsylvania car accident lawyer at Monaco Law PC today to schedule a free consultation at (609) 277-3166 for our New Jersey office and (215) 546-3166 for our office in Pennsylvania.
We are a New Jersey and Pennsylvania personal injury law firm serving Atlantic County, Burlington County, Cape May County, Camden County, Cumberland County, Gloucester County, Mercer County, Middlesex County, Ocean County, Salem County, and all of South Jersey.
Source:
cdc.gov/transportationsafety/pdf/seatbelts/2020/CDC-Restraint-Use-Fact-Sheets_Pennsylvania.pdf