How Construction Accident Injuries Happen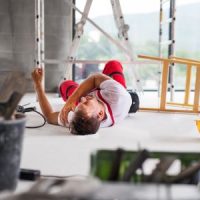 Construction sites in New Jersey and Pennsylvania can have many different hazards that can result in serious and deadly injuries. Many injury risks on construction sites can be avoided with proper safety methods and protocols. When a serious construction accident does occur, it may be possible to seek compensation through a workers' compensation claim in New Jersey or Pennsylvania, or by filing a wrongful death or personal injury lawsuit against the at fault party.  How do most construction accident injuries happen, and what can be done to prevent them? Our New Jersey and Pennsylvania construction accident attorney has more information for you.
Most Common Causes of Construction Injuries
Many kinds of injuries can happen on construction sites, but certain types of injuries are much more common than others. According to the Occupational Safety and Health Administration (OSHA), the following are the top four construction hazards that result in serious and deadly injuries:
Falls, which tend to result from a lack of fall equipment, lack of perimeter protection, poor or limited securing of floor openings, and/or unsafe use of ladders or scaffolds;
Struck-by accidents, which result from construction workers being struck by machinery or vehicles on a construction site;
Caught-in or caught-between accidents, which commonly occur in trenching and excavation work when a trench or excavation site is not properly secured; and
Electrocutions, which tend to happen on construction sites when construction workers make unexpected contact with power lines.
Preventing Construction Accidents
How can common construction accident injuries be prevented? According to the American Society of Safety Professionals, the following are among the best ways to improve safety on construction sites and avoid serious and fatal injuries:
Ensure that construction workers, as well as managers and supervisors, have proper training;
Recognize the most common hazards on construction sites and always focus on worker safety above all else, particularly when construction work involves working from heights or engaging in trenching or excavation work;
Understand all the needs of a construction project, including all potential hazards and safety requirements, before beginning work;
Eliminate hazards when possible before requiring workers to use personal protective equipment (PPE) to prevent injuries from those hazards; and
Have a safety management system with managers who are trained in focusing on worker safety.
Contact a New Jersey and Pennsylvania Construction Accident Attorney
If you or someone you love got hurt in a construction accident, it may be possible to file a claim. Construction accident injuries can result in debilitating injuries, and sometimes they can be deadly. Depending upon the circumstances of the accident, it may be possible to file a workers' compensation claim in New Jersey or Pennsylvania, or to seek workers' compensation death benefits when a construction accident proves deadly. When a third party's negligence causes a serious or fatal construction accident, it may be possible to file a personal injury or a wrongful death lawsuit.
Do not hesitate to get in touch with an experienced New Jersey and Pennsylvania construction accident lawyer at Monaco Law PC. Our firm is a New Jersey and Pennsylvania personal injury lawyer serving Atlantic County, Berks County, Bucks County, Burlington County, Cape May County, Camden County, Chester County, Cumberland County, Delaware County, Gloucester County, Lehigh County, Mercer County, Middlesex County, Montgomery County, Ocean County, Philadelphia County and Salem County.
Sources:
osha.gov/sites/default/files/publications/construction_hazards_qc.pdf
assp.org/news-and-articles/five-important-issues-in-construction-safety