Winter Car Accidents: What To Know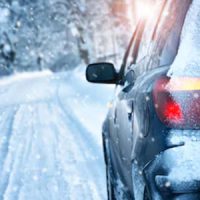 As winter approaches in New Jersey and Pennsylvania, it is important for motorists to understand the risks of winter car crashes and to learn about liability in these collisions. In both New Jersey and Pennsylvania, it is usually necessary to show that you have suffered serious injuries if you want to file a lawsuit against an at-fault driver. Many of us assume that car crashes that happen during inclement weather in the winter are nobody's fault. To be sure, many of us assume that these collisions were caused by snow and low visibility, or by icy roads. Yet in many cases, another driver or another party may be liable, and you could be eligible to obtain compensation by filing a lawsuit. A New Jersey and Pennsylvania car accident lawyer can provide you with more information.
Winter Car Crashes Have Many Causes 
There are often many different causes of winter car accidents, including inclement weather. According to Carsurance.net, about 17 percent of traffic collisions happen while there are winter weather conditions. According to the Federal Highway Administration (FHWA), "snow and ice reduce pavement friction and vehicle maneuverability, causing slower speeds, reduced roadway capacity, and increased crash risk." In addition, "heavy snow and sleet can also reduce visibility," and roads and highways can become "obstructed by snow accumulation." Yet there are more causes of winter car crashes than just inclement weather. The following are some of the most common reasons for wintertime collisions:
Aggressive driving;
Intoxicated driving;
Distracted driving;
Fatigued driving;
Inclement weather;
Negligently maintained roads; and
Negligent vehicle maintenance.
Motorists Can Be Liable for Accidents That Occur in Inclement Winter Weather 
Just because a crash happens during a winter storm, or while the roads are icy, does not mean that inclement weather is solely to blame. Drivers owe a duty of care to other motorists and travelers on the road, and that duty of care requires drivers to act reasonably under the circumstances. If heavy snow is coming down, or there is limited visibility due to wintry weather, a reasonable driver would likely leave a much greater following distance and would slow down to a speed well below any posted speed limit.
Much too often, people who are injured in auto accidents in the winter assume that inclement weather is to blame, and they do not try to hold an at-fault driver accountable. Many winter car crashes do result from inclement weather, yet it is critical to remember that another party may still be at fault even if it was snowing or sleeting at the time of the collision. As noted above, motorists have a duty to drive in a reasonable manner based on the conditions, which may require slowing down to a speed significantly below the posted speed limit.
Contact a Car Accident Lawyer Serving Clients in Pennsylvania and New Jersey
Were you injured in a winter car accident? You may be able to seek compensation by filing a lawsuit. An experienced New Jersey and Pennsylvania car accident attorney at Monaco Law PC can assess your case today to determine whether you could be eligible to file a lawsuit against one or more liable parties. Joseph Monaco is a New Jersey and Pennsylvania personal injury lawyer serving Atlantic County, Burlington County, Cape May County, Camden County, Cumberland County, Gloucester County, Mercer County, Middlesex County, Ocean County, Salem County and all of South Jersey.
Sources:
carsurance.net/insights/winter-driving-statistics/
ops.fhwa.dot.gov/weather/weather_events/snow_ice.htm#:~:text=Every%20year%2C%20nearly%20900%20people,ice%20increase%20road%20maintenance%20costs