How To Start A Personal Injury Claim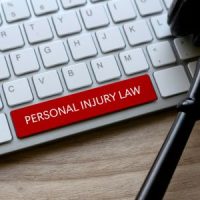 An unintentional injury accident happened, and you were injured due to the negligence and misconduct of another party. Losses were suffered, so a personal injury claim may be appropriate. But how does the personal injury claims process work, and what should be done to start a claim?
Read on as our South Jersey personal injury attorney at Monaco Law PC explains more about the basics of starting a personal injury claim.
Filing a Personal Injury Claim in New Jersey 
Personal injury events can be shocking and are typically unexpected. No one foresees slipping on an uneven surface or having another car crash into them when they are running errands, for instance. Yet, injury accidents can happen in a variety of ways, and every day of the week, everyone has some amount of risk of being harmed in a personal injury event.
One step in filing a personal injury claim is exchanging information with the other party or parties involved in the incident. Then, individuals that were hurt should immediately seek medical attention to get the correct diagnosis and start a treatment plan. After this, reaching out to the insurance company is essential.
Depending on the rules for obtaining compensation after an injury accident, a victim may first have to reach out to their own provider before they could be able to connect with another party's insurance to file a claim. However, once the insurance company is contacted, the personal injury claims process begins.
The insurance company will want to have a discussion with the claimant to collect information during the early stages of the claims process. While a claimant has the ability to speak to the adjuster on their own, this is typically not advisable. Instead, having an attorney do the talking is generally the better approach. An attorney will know how to communicate effectively with the adjuster and give them the information they need without harming a victim's claim.
Once a claim has begun, the insurance company will conduct an investigation into the incident, and a victim with an attorney will benefit from their attorney doing their own investigation.
Evidence and information will be gathered and compiled, and the insurance company will determine whether they will make a settlement offer to the claimant or not. Meanwhile, a victim's attorney will also determine how much the claim is worth, which will help guide negotiations and get the insurance company closer to what is full and fair for the victim.
Most claims will be resolved with an agreed-upon settlement. Then a victim will sign off on the agreement. However, sometimes a settlement cannot be arranged. There are several reasons for this, but if this happens, then a claim will turn into a lawsuit, and the case will be taken to court for resolution.
Speak to a South Jersey Personal Injury Attorney Today 
After an injury accident, contact the South Jersey personal injury lawyer at Monaco Law PC by calling (609) 277-3166 for our New Jersey office and (215) 546-3166 for our office in Pennsylvania to learn more about personal injury claims.
We are a New Jersey and Pennsylvania personal injury law firm serving Atlantic County, Burlington County, Cape May County, Camden County, Cumberland County, Gloucester County, Mercer County, Middlesex County, Ocean County, Salem County, and all of South Jersey.