Amputation Injuries In Car Crashes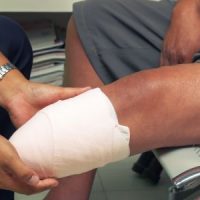 Motor vehicle collisions can result in a wide range of debilitating injuries. The severity of a person's injuries in a car crash will depend on multiple factors, such as the speed the vehicle was traveling at the time of the accident, the type of vehicle impact (such as a head-on or a side-impact collision), the safety features of the vehicle (like presence of air bags), and whether or not the vehicle occupants were wearing seat belts at the time of the crash. Yet even when drivers and vehicle occupants take all necessary precautions, severe and life-altering injuries can still occur in collisions. Amputations are one type of catastrophic injury that can occur in motor vehicle collisions. Our Pennsylvania and New Jersey car accident lawyer can provide you with more information about amputation injuries in collisions.
What is an Amputation Injury? 
What is an amputation, and how does it happen in a car crash? According to Johns Hopkins Medicine, the term amputation refers to "the loss or removal of a body part such as a finger, toe, hand, foot, arm, or leg." For many people who suffer amputations, the injury affects the person's ability to return to work, and in some cases, the person's independence. Not only are amputation injuries extremely physically painful, but they can also result in significant psychological and emotional trauma, and people with amputation injuries can experience phantom limb pain.
Amputation injuries can either be traumatic (where the amputation occurs in an accident) or surgical (where a limb must be removed surgically due to excessive tissue damage, for example, or due to disease). Motor vehicle collisions in New Jersey and Pennsylvania can result in both types of amputations. In some situations, limbs can be traumatically amputated in the collision as a result of a crush injury or a struck-by injury involving a piece of a vehicle. At the same time, a person may sustain injuries in a collision that result in severe tissue damage and ultimately require a surgical amputation.
Filing a Car Accident Lawsuit After an Amputation Injury 
Both New Jersey and Pennsylvania typically require a person who is injured in a motor vehicle collision to prove that their injury is sufficiently serious if they want to file a lawsuit. Given the severity and life-altering nature of amputation injuries, these types of injuries almost always allow an injured motorist or vehicle occupant to meet the serious injury threshold and to file a lawsuit against the negligent driver who caused the collision.
Contact a New Jersey and Pennsylvania Auto Accident Lawyer
 Amputation injuries are among the most catastrophic types of injuries that a person can suffer in a motor vehicle collision. If you were involved in a car crash that resulted in an amputation injury, it is critical to seek advice from an experienced New Jersey and Pennsylvania auto accident attorney as soon as possible. Joseph Monaco is a New Jersey and Pennsylvania personal injury lawyer serving Atlantic County, Burlington County, Cape May County, Camden County, Cumberland County, Gloucester County, Mercer County, Middlesex County, Ocean County, Salem County and all of South Jersey.
Sources:
hopkinsmedicine.org/health/treatment-tests-and-therapies/amputation#:~:text=Amputation%20is%20the%20loss%20or,emotional%20trauma%20can%20complicate%20recovery
dmv.pa.gov/VEHICLE-SERVICES/Insurance/Insurance%20Overview/Pages/default.aspx
state.nj.us/dobi/division_consumers/insurance/basicpolicy.shtml