Lancaster Pennsylvania Nursing Home Abuse Lawyer
Call or text me at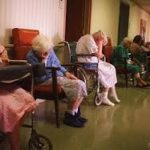 Our most cherished but vulnerable family members are often entrusted to Lancaster County, Pennsylvania nursing homes and other long-term care facilities. While most provide proper care for our loved ones, some nursing homes put profits ahead of resident safety. Unfortunately, it is a harsh reality that seniors will become victims of nursing home abuse or neglect. This can result in unexplained injuries or even wrongful death. If you or a loved one are the victim of nursing home abuse or neglect in Lancaster County, Pennsylvania, call me, Joseph Monaco, Lancaster Nursing Home Abuse Lawyer, to learn your rights including the award of monetary compensation.
There are governmental regulations and industry standards that set minimum requirements for resident safety. Lancaster nursing homes and other long-term care facilities have a duty to provide proper care to their residents. . If their reckless or negligent conduct leads to harm, Pennsylvania law holds them liable for damages. As a Second Generation Trial Lawyer, I stand by my belief that our loved ones, no matter their age or health, deserve to be treated with dignity and respect. For over 25 years, I have work tirelessly to hold wrongdoers responsible for the harm they cause my clients.
Common types of Lancaster County, Pennsylvania nursing home abuse or neglect include:
Falls
Bed sores
Inadequate staffing levels
Failure to provide correct medication and dosage
Failure to provide proper nutrition and hydration
Disregarding doctor suggestions or orders
Failure to reposition residents in bed, chairs or wheelchairs
Failure to accompany residents to toilet
Failure to detect infection
Victims of nursing home abuse or neglect often cannot speak for themselves. As a result, it is crucial that family and friends be their voices and report incidents of abuse immediately as well as pursue all legal remedies to benefit their loved ones. You should act early if you believe a loved one has been harmed. There are time limitations to bring Lancaster Pennsylvania nursing home abuse claims.
Joseph Monaco
Pennsylvania Trial Lawyer
Call or text me at for a Free Consultation and the No Recovery, No Fee Guarantee. As a Pennsylvania Trial Lawyer, I will work tirelessly for you to keep up my long tradition of fighting for victims.